Build Your Website with a Trusted Custom Web Design Company
By: Nahida Haque / 30 July 2022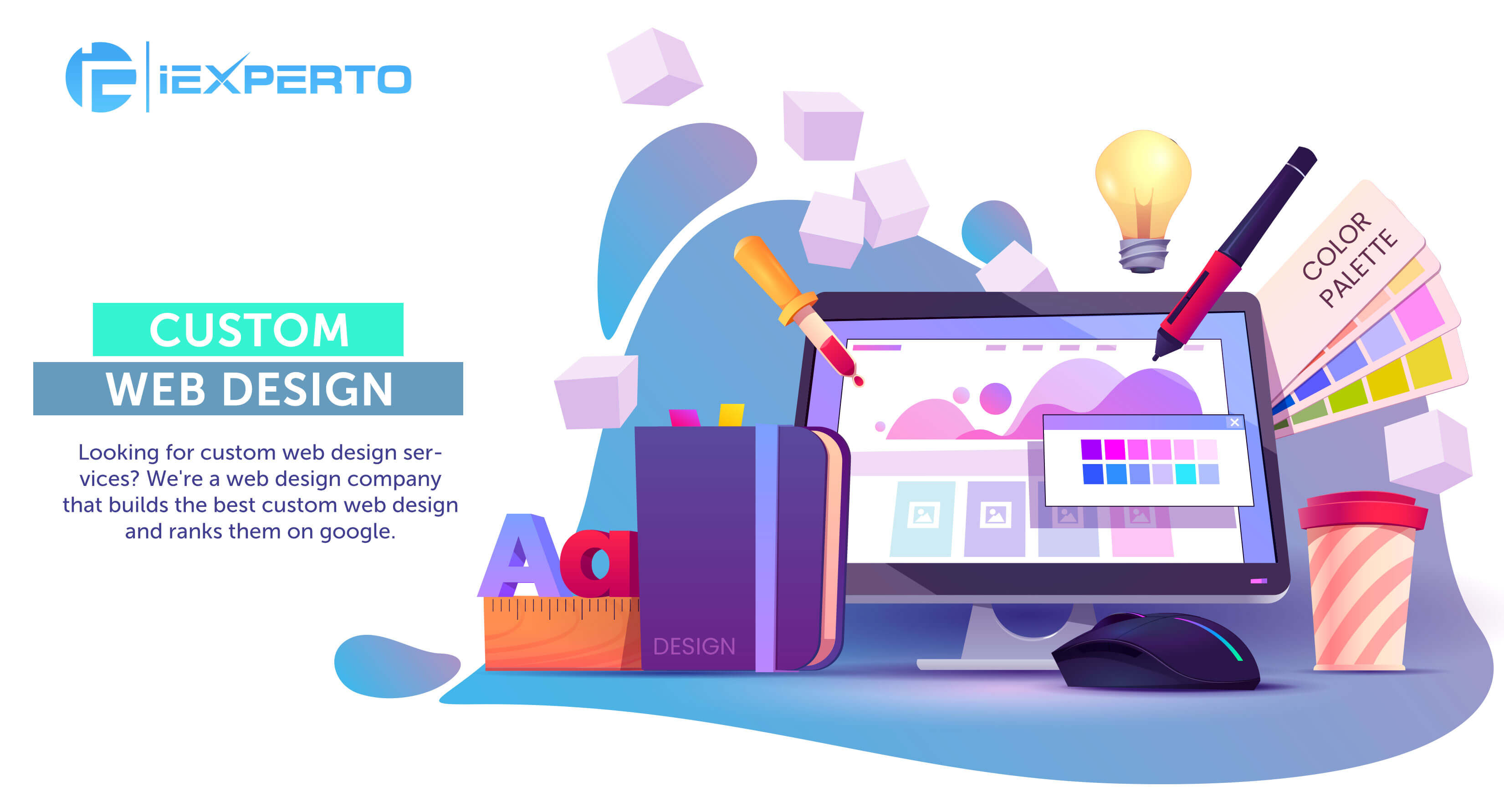 What is a Custom Web Design?
Custom web design creates customized websites based on a customer's preferences and desires, often performed by artists, programmers, and web designers. Many sites on the Internet are created through templates, resulting in websites with similar layouts or visual styles. It is not necessarily bad, especially for small businesses or private individuals with a limited website budget. Larger companies, however, often prefer a site with a custom web design that more effectively captures the business represented and the audience viewing the site.
What is the Importance of Custom Web Design?
A custom web design provides a unique identity to a business compared to shared templates. Also, it makes it easy for a business to create additional features that can best serve its customers. But that is not all. A custom web design blends the culture and business processes into one place, giving your clients a complete understanding of your business and the value you provide. Instead of settling for a standard template, here are the main reasons every business should have a custom web design for its online reputation.
1. Professionalism
In the past few years, especially with the advent of mobile phones, smartphones, social media, and search engines. Custom web design in your business generally creates a sense of professionalism. By involving a professional to create a custom web design, customers tend to be attracted to your business as they expect a professional job covering all these critical areas.
2. Your company has a distinctive stance in the market.
Since your business is unique, your company website needs to be. Or else, you're wasting some of your aggressive advantages and branding efforts by compressing your message into a template that looks just like everybody else's. Nowadays, your website is the most visible part of your business – it should reflect what you're about, not what was fastest to put together. A custom web design also gives your company a unique position in the market and also attracts visitors to be customers of your business.
3. A custom web design is hard to imitate
If your business is victorious over the Internet, and its website is built from a web template, then all your competitor has to do to copy it is buy the same template. That can be an enormous benefit than you might think, especially as you become more prominent in your industry; repeating a custom web design is almost impossible thus, creates an added advantage on your side as a business owner. With a custom design, however, you don't just get a more effective site but also one that others can't duplicate easily or legally.
4. Custom websites are easily scalable
Ideally, your business will get bigger and evolve. You need a website that can grow and meet your dynamic needs. It would help if you acquired a custom website for;
Accommodating a more significant flow of traffic
develop your ability to showcase new products and services
Adding recent performance to address changes to your business model over time
Altering the exploration structure to adapt to the needs of your audience more effectively
Modifying your website to reflect current web design and SEO best practices
Custom web design makes making these necessary changes to your website much simpler. Your web developer can incorporate any new elements or features essential, allowing your website to grow and evolve with your business. Custom websites are generally flexible for any new features and changes; thus, they can incorporate several new elements with time as your business keeps growing. Template websites are much more limited in their ability to adapt to your changing needs over time.
5. Custom websites have a better user experience
Ultimately, a fruitful website is how well it engages people and provides a good user experience. Websites that attain this goal will increase conversions, turning website visitors into new customers. You know the needs of your targeted audience better than anyone else, and you understand their frustrations and how you can help them. Custom web design allows you to set up your website with your customers in mind and implement relevant features to the existing custom web to attract more customers and prioritize customer satisfaction. You can add the distinct features necessary to engage your audience and deliver what they need. Depending on the exclusive nature of your business, this can be focused on providing helpful information or more accessible access to obtaining your product. You'll be able to integrate the user's process, allowing them to access what they need faster and more efficiently.
How to Choose a Custom Web Design Company?
1. Know your goals and how you want to achieve them.
Before heading to choosing a web design company, knowing your business goals is essential at this point because it will let you know if you're ready for this stage. First, list your contemporary business goals, define your target audience, and consider the arguments that have led you to consider hiring a web design agency (and how you want to settle them). These details will show you at which stage you are and come in handy when communicating with a web design agency. Now you can start.
2. Search
After knowing your business goals, you can now move to this step of finding an appropriate custom web design firm. First, check out lists of recognized websites for leading custom web design firms. You need to do extensive research and find agencies that might interest you. Once you identify a company with credible features and your business needs, you can opt opt-in to the company. Please look at the initial pain points of clients with the company and how the agency helped resolve them. Also, choose a company because they have worked on similar projects like yours. Related experience is essential when selecting a web design company as it will make it easier for them to solve your issues.
3. Request a proposal
Immediately after identifying an ideal company of your choice, the next move is to write a proposal to them asking for the terms and conditions of their company before moving further to business matters. After successfully going through their terms and conditions, you are ready to start a contract with the company.
4. Finalize the contract with a trusted web development company
Finally, after settling with one particular company, you can request a test task to ensure the quality of the design. After it is done, you will see a complete picture of their work and decide if you want to cooperate with that particular custom web design firm. Also, agree on the pricing policies to avoid unnecessary chaos between the two parties.
Why invest in Custom Web Design Services?
1. Increase your conversion rate
A custom web design grants you more conversions and a higher return on investment. Even though a custom web design may cost a bit more and takes a bit longer, it boosts your revenue and helps your company to take the next step and grow very fast, even though starting up a custom web design might incur more costs than a template, in custom web design the increase in sales and improved return on investment makes it worth it.
2. Optimize your user experience
Just as you should aim to give every customer a good user experience, and personal experience in your day-to-day business dealings, you should aim to do the same with your website. A one-size-fits-all website solution can give your particular customers the unique experience they deserve. You can tailor your website to your customer with custom web design because you know them best. Whether it's a great landing page layout, clear navigation architecture, a highly responsive design, or an intuitive user funnel, your website needs to provide a great user experience at every step of the way. A good user experience e is likely to convert visitors into customers and may lead to the growth of your business.
3. Maximize your competitive edge
Modern marketing is all about. It always has been. While your business contribution may be better than the committee strength of your brand is what gets people in the door. A template website will handcuff your ability to stand out from the pack. When conceivable customers see a cookie-cutter website, they see a cookie-cutter business. With a custom website design, cookie-cutters can show a cookie-cutter of your label and what makes you unique. A delightful website design with a strong, focused brand promotes your business as more reliable, professional, and robust. A great web designer will struggle with you to verify that all the best aspects of your branding are reflected in your website to ensure your visitors genuinely understand who you are and what you do. In conclusion, having a custom web design in your business will set your game up from other business partners and grow your business quickly.
4. Improve your search rankings
A custom website design can positively influence the most essential search engine ranking factors. Especially. The prime ranking factor has always been the number of high-quality links pointing to your website, and nothing earns more links than a beautiful, fascinating website design. Lately, Google's search ranking algorithm is placing more value on websites that provide an incredible user experience thanks to unique, engaging content. Constituents like the time users spend on your site and how many pages they interact with are now considered when rating your site in search results. So the further you can "wow" your site guests, the more reasonable you are to Google, which cares mostly about boosting the number of visitors to your site and therefore boosting your business.
5. Enhance your digital marketing strategy
Technology changes fast, and it's no different when it comes to web design.
People use the web constantly changing, whether it's newer phones, switching browsers, or other unexpected contenders entering the scene.
A customized website design makes you stay on top of that change and ensures that your site, visitors, and potential customers always get the most modern possible browsing experience. Having a customized website in your business will significantly improve your business and enhance your digital marketing as it will make you stay trendy and provide your customers with the latest features on the market and also on your web; this will most likely have a positive impact to your business and help it to grow.
How can a Custom Web Design help your business?
1. What is our custom website design company's process?
There are seven steps in the custom web design process;
Set up
Discovery
Plan
Design
Develop
User testing
Launching
1. Understand your custom website design goals
In your business, having business goals and objectives is essential as it will make your company operate at an acceptable level of performance and also likely to attract more customers with the fact that the business will look more organized and have some sense of order, which will make your business to grow at a faster rate.
2. Partner your business with a dedicated project manager
Another way to let your business rise over stiff competition from other companies is to have a devoted project manager who will be in charge
Of the custom web design building. A project manager will help reduce extra costs from malicious workers in the team and ensure a smooth flow of events while building your custom web design for your business.
3. Design your company's custom website
Make a design of your custom web design for your business, and make sure it suits both your needs and also the customer's needs. Ensure you have provided a good explanation of how you want your site to avoid unnecessary inconveniences with the technical team while building the custom website.
4. Receive your feedback and make improvements
Allow room for suggestions from potential users and customers and then make reviews on the recommendations and finally make corrections where the need arises, and also make some improvements to suggested places in the design.
5. Build your company's custom website
Find a team of professionals to come and build the custom web design for your business. Choose a company with a reputable history to assure you of the quality of the design for your business.
6. Test your company's custom site
After completion of the site, testing is essential to assure your customers of a quality design to attract more customers and even convert visitors to customers. Testing is necessary for corrections to be made where the site does not seem to work correctly.
7. Launch your company's custom website design
After testing is complete, you can move forward to launching the custom web design you have built for your business.
Custom web design tips
1. Make your website easy to navigate
There are several ways to make your site easy to be navigated by users;
Keep it consistent – consistency generally promotes ease of use and increases your visitor's ability to find relevant information quickly.
Make all navigation elements clickable links – links are elementary to use as they will quickly direct customers to particular information they need. All heading features should be clickable links.
Ensure your search feature works – if your site uses a search feature, it is always good to check if it works correctly and if the search results are correct and relevant, it should always show related items and even produce results for products you don't have, never produce a search result as "no product found."
2. Make your website memorable
For your website to be particular, you have to consider the following and put them into action;
Friendly and interactive user experience
Good first impression of the site
Catchy and meaningful content
High-speed loading time
3. Leave room for improvement
When making a custom website, it is crucial to leave room for improvements and upgrades for new features to keep your site updated and have the latest information and the current business trends.
Frequently Asked Questions for Custom Web Design Services
1. What is custom website development?
Custom web development is making a customized website for your brand or business. It chiefly focuses on your target audience to keep your business ahead of your competitors. It makes your site advanced and has updated tools and new website development trends.
2. How much does it charge to fabricate a custom website?
For you to create a custom website, there are three approaches;
With a website builder
With WordPress
By hiring a professional designer
Each approach has its own price tags and, most importantly trade-offs. The price of hiring a professional website designer will depend on several factors like size and complexity. Contact us now to get a price quote for your website design needs.
3. How prolonged does it take to design and develop a custom website?
For you to have your website built adequately with minimum errors, the process of designing and developing your website, if built professionally, can take between five to six months. If you can offer to wait that long, can you opt-in for hiring a professional web designer to do it at a higher cost?
4. How does a custom-built website help businesses grow online?
It is straightforward for your business to grow online if you have installed a custom web design as your unique custom–built website will help market your brand globally faster and be a more secure base for your online business. It will help you provide a secure eCommerce experience for your clients, who will keep coming back due to their great experience with your site.
5. Why should a business choose custom development?
Yes, a business should go in for custom development because custom software development is vital to a company as it allows for fulfilling specific requirements at a lower cost than purchasing, maintaining, and modifying commercial software. There are also added advantages such as; efficiency, scalability, lower integration costs, profitability, and independence.
6. How does a custom-designed website help to be unique?
When you have a custom web design in your business, it is elementary to be unique as custom websites deliver a better user experience. As the business owner, you understand your customer's frustrations and how you can help them. Custom web design also lets you construct your website with your customers in mind. You can easily add specific features necessary to engage your targeted audience and deliver what they need.
7. Do you integrate branding elements into your custom designs?
Yes, the brand you generate should not be wasted; you have to put it out there and assimilate it into everything about your business. You must develop a branding that is strong and lasting so that customers can remember it even without actually viewing the marketing materials.
8. Is a ready-made web template better than a custom web design?
No, it's not. A web template can generally provide a decent amount of functionality, but it's not going to be customized to fit your exact needs and user needs; meanwhile, a custom web design allows you as the user to perform a particular action on your site that generates a result, unique to that specific process and your business.
9. Does a custom web design provide complete control over functionality?
Yes, it does. When creating a custom web design for your business, a professional designer will work with you to create a custom website that is unique and precisely tailored to your business. Working with a professional designer means you will have total control over the look and feel of your website and its functionality.
10. Does a custom-designed website improve website speed?
Yes, it does. When you choose to work with a custom web designer in your business, it helps in the general website speed and also helps in lowering the traffic and clicks on your website. A custom-designed website is essential for a company and increases website speeds.