10 Tips for Choosing The Best Affordable Web Designer Virtually
By: Nahida Haque / 11 April 2018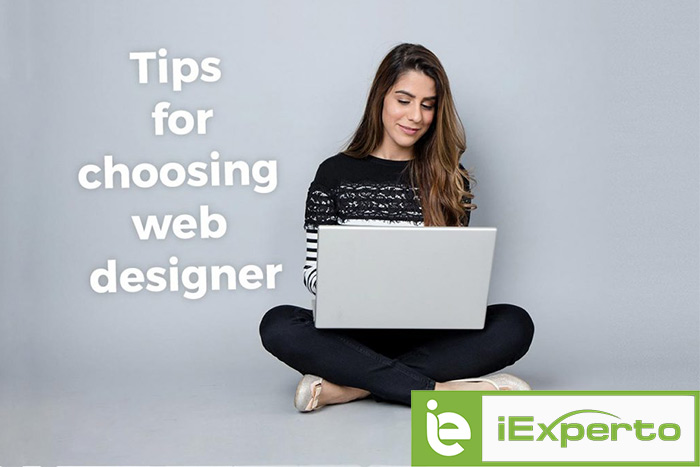 For any business, choosing the right web designer is an important decision. After all, a really great website can attract more customers, resulting in greater revenue. However, a poorly designed website can actually drive business away.
Therefore, it's crucial that you select the right person for the job. At iExperto, we recognize that choosing the best cheap web designer can be confusing. Therefore, we've compiled a list of handy tips and tricks to help you make a decision that's best for you and your business. Read on for our top ten.
1. Clarify Which Services They Offer
Is the designer you're considering able to design the look and layout of your website, or are they a programmer? Not all web designers offer an all-inclusive service. If yours doesn't, you should find out if they can recommend another designer that can cover the remaining aspects of your site. This is the most important thing to establish when you are beginning the process of hiring a web designer.
2. Gauge Their Interest in Your Individual Business
A really great web designer will ask you lots of questions about your business, your goals and your target audience. If they don't, then they can't possibly build a site that meets the needs of your business or the needs of your customers. If a web designer doesn't demonstrate a keen interest in all aspects of your company, they may not be the best fit for you.
3. Check Out Their Other Work
Ask to see example of other websites they've designed. First, check that the work they are producing meets your expectations for your own project. Also, look out for versatility in the website examples they provide you with. You are looking for a web designer that can design a site to suit your business and customers perfectly. If their output is all extremely similar, this may suggest that they don't adapt their style to suit the client.
4. Ask About Their Planning Process
Ask the web designer what their process is for planning your website, and find out at which points you will review the project. Also, ask them how they intend to guide you through the various phases of design and how your meetings and correspondence will be documented. Some designers even provide a document that outlines all of this for you. This is a big positive and indicates a professional approach.
5. Ask Existing Customers About Their Experiences
If you're just starting the process of finding a cheap web designer, it's well worth asking around to find out who other business owners recommend. This reduces the risk of you selecting a designer who's below par. Alternatively, if you have a web designer in mind already, it's a good idea to contact a few of their previous clients. Aim to find out whether the designer is a good communicator, whether they are quick to respond to queries and whether they meet deadlines. This can save you a lot of time and stress in the long-run.
6. Clarify Prices And Payment Procedures
Before a web designer can give you an accurate quote, they will need to know precise details about what you expect them to produce. Ask them to provide you a price following a detailed description of the site you want them to make. Whilst you will want to save money wherever possible, the price should seem reasonable but not outrageously low. If the price they quote raises eyebrows, you should think carefully before proceeding. After all, you want a quality design that is delivered on time.
Also, ask them to clarify the payment schedule that they expect you to follow. In particular, ask whether you will have to pay a deposit. Also, at which points in the project will they expects payments, and how much will you pay at each milestone? These are all important points to clarify before committing to working with a particular designer
7. Find Out If They Will Help You To Maintain Your Website
Whilst some web designers will help you to maintain your website once it's up and running, many are not willing to do so. It's important to find out which camp your designer falls into in the early stages of the process. On the other hand, you could always hire a Virtual Assistant to maintain your website if the original designer isn't willing to do so. This is usually reasonably inexpensive. However, a VA will need to understand the programming and platforms used in you site. To find the right person to carry out this role, you will need to clarify this with the web designer.
However, you may be intending to maintain the site yourself. If this is the case, make this clear at the outset. You will want to be sure that your web designer is using a platform that you can update yourself without too much hassle
8. Make Sure You Own The Copyright
If you have paid someone to design a website for you, it's absolutely vital that you own the copyright to the finished work. This applies to graphics, text, or any other aspect of the website that has been designed for you.
9. Clarify Deadlines
Many web designers are extremely busy, and can book up far in advance. This doesn't always match up to your hopes for a completion date. To avoid any disappointment or frustrating delays with getting your website up and running, be clear about when you need the site completed at the outset. A good designer will be able to tell you whether this deadline is feasible with the other projects they are working on.
10. Think About Your Working Relationship
For all business owners, their work is a labor of love. When you're working with an outside agency or individual on any aspect of your business, it's important that you feel you can trust them. Don't underestimate the importance of a friendly and productive working relationship.
So, do you like the web designer, and do you find them personable? After all, designing a website is a major undertaking. The whole process will be much smoother and more enjoyable if you relate well on a personal level.
The Final Word
Hopefully, the points covered in this article will help you on the way to choosing the right web designer for your project. At iExperto, we provide a range of web design services at clear and reasonable prices, completed to the very highest quality. Contact us today to discuss how we can help you build your business's online presence and maintain it for the future.