What is the Process for Driving More Sales with eCommerce Website Design and Development Services?
By: Nahida Haque / 19 April 2022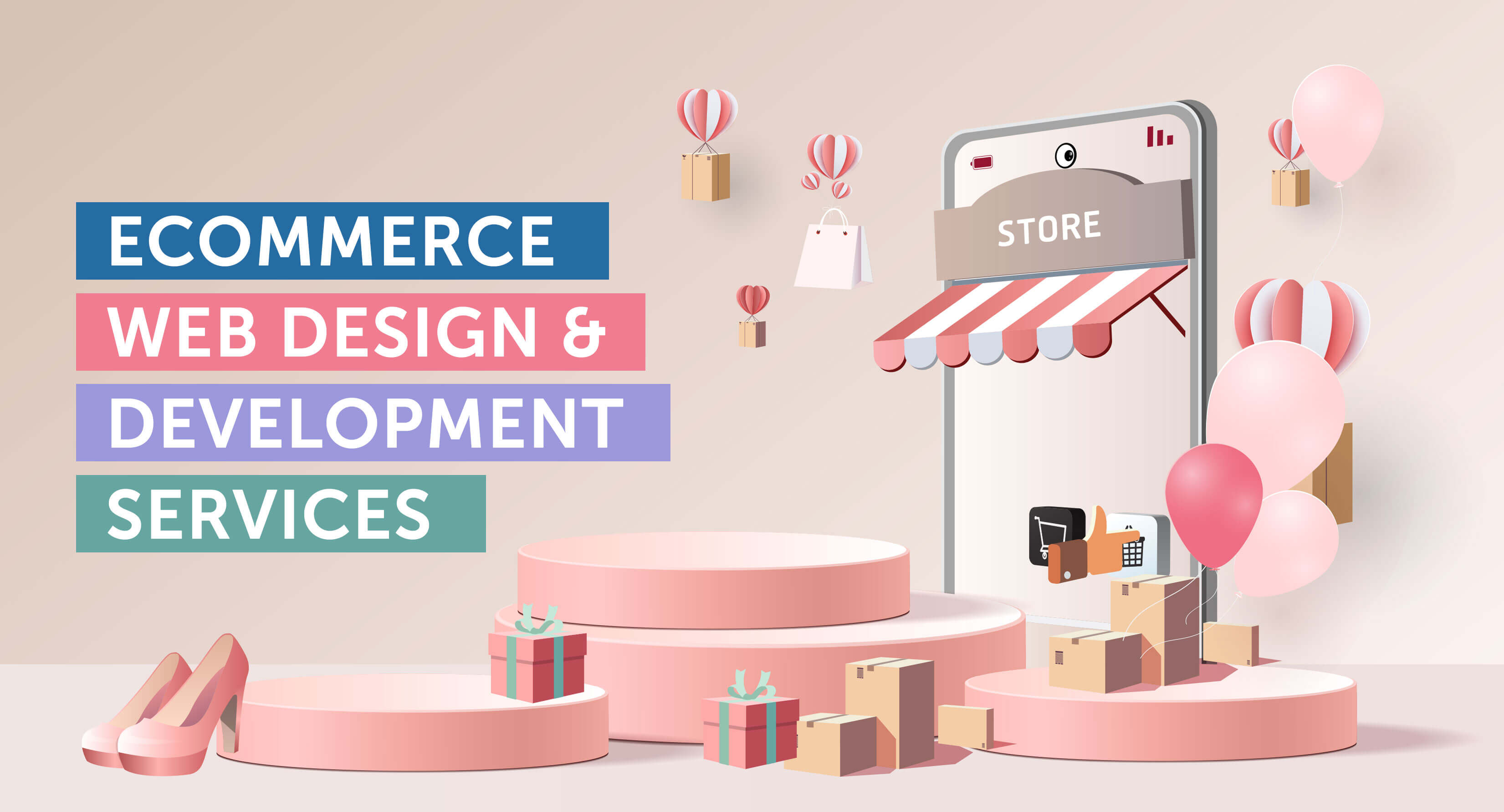 Your company deserves greater exposure than a high-street shop or a small-town brand. When it comes to establishing your company internationally, eCommerce Website Design is the way forward. Many marketing professionals equate eCommerce to a golden pot that allows you to take advantage of many chances to expand your organization quickly. Is there still a chance for you to get a piece of the golden pot?
We are in the digital age of the 21st century. Nowadays companies don't have to spend a lot of money and effort maintaining and promoting their shops while registering little or no sales. Businesses can now reach customers worldwide with 24/7 services with real-time transactions thanks to e-commerce.
Need an eCommerce Website Design?
Before the internet, establishing a firm was a challenging task. But now anyone with the time and determination can now create an e-commerce website and sell their products online.
It needs more efforts and compassion to start a company of any kind. A critical early step you'll have to do is coming up with a product concept and finding a way to achieve it. iExperto web designers create the most basic e-commerce websites within days.
Even if you are novice in developing websites, the available tools make it simple to set up an online shop. At the end of this article, you'll know how to choose a decent product and niche for your business, where to go for an eCommerce website design, and how to generate sales.
Why You Should have an eCommerce Website
Before someone can buy a product from you, they must first learn about your brand and the things you provide. Selling items in a physical shop restricts the number of individuals who can discover them.
This trend was true even before the coronavirus outbreak, but it's much more true today that consumers have switched practically all of their buying to the internet. You'll be missing out on an immense market if you don't start an e-commerce website.
If you've been reluctant to sell things online, here are a few compelling reasons why you should do so.
1. People spend money online.
In 2019, Americans spent $602 billion on the internet. That was before the Coronavirus altered everyone's purchasing patterns. E-commerce sales increased by 49% in the first month after the pandemic began. Any company owner who does not go online misses out on a portion of those revenues.
While some buyers still like the experience of shopping for clothing in a store, many others choose to forego the journey and shop from the comfort of their homes or on their mobile devices.
You'll lose business if your rivals make their products accessible online while you don't.
2. An eCommerce website costs less than a storefront.
Getting a storefront necessitates:
Renting a space which can be costly.
Paychecks for employees who work in the shop during business hours
Licensing and permissions are required.
Bills for utilities
Decorations and furniture
Building upkeep is essential.
Janitorial supplies
Selling equipment such as cash registers and point-of-sale (POS) systems
All of this adds up to many costs, most of which are continuing.
Selling products online eliminates the majority of the above-mentioned expenses although things like site hosting and marketing will still cost money. Moreover, depending on the size of your eCommerce shop you may still need to recruit some workers, but the expenditures are more reasonable and simpler to budget.
3. Online shopping provides convenience and safety.
Even when visiting a shop is safe, you may not want to spend time driving there just because you're tired, busy, unwell, or simply feeling lazy. A trip to the shop is a challenging task for many individuals who live with impairments.
Contrary, finding an eCommerce site online and completing purchases takes less time, effort, and energy. When spending money does not seem like bother, people are more willing to do it.
Online buying isn't completely hassle-free, but it's close. When you offer your items online, you eliminate many of the obstacles that are present in a traditional shop.
4. An online presence gets your products found in search.
For product research and shopping, 85 percent of consumers use Google.
If you do not have an eCommerce website, your items will not appear when prospective clients search for what you offer online.
However, if you post each product you sell on a separate page on your eCommerce site, Google will index them all and that's the first step toward seeing your items in search results. If you want those product pages to appear on Google's first page, you'll need to invest in SEO best practices. But before you can even consider that, you'll need an eCommerce website to sell your goods.
5. The growth in mobile means people can buy from anywhere.
According to recent statistics, over a quarter of all e-commerce purchases are now made on mobile devices.
People may make purchases when they desire something, thanks to mobile shopping. They may buy anything they want instantly, whether they're sitting on the sofa watching TV, walking through the park, or relaxing on the beach. As a result, there are additional sales chances. You don't bother about potential consumers thinking they want what you offer and then forgetting about it when they go home to their computer. This aspect is beneficial to both your consumers and you.
So, there you have it. Now it's time to get down to developing your e-commerce shop!
What you need to build an e-commerce website
Step 1: Choose your domain name
If you're building an e-commerce website for the first time, your domain—also known as a URL—is your online address. This is the "home" of your e-commerce website on the internet, and it's what customers type into the browser bar to access it.
The value of a good domain name is immeasurable towards the overall success of your brand. Be as precise as you can when choosing a domain name for your business. Descriptive terms and phrases in your company's name and domain name may assist customers in understanding what you have to offer right away, which is crucial to your SEO strategy.
If you specialize in organic honey, check for domain names that incorporate the phrase "organic honey" such as ReensOrganicHoney.com. It's relatively simple to create a keyword-focused name for your e-commerce website if you have a specialized company.
Once you've come up with a couple of options, go to a domain registrar like GoDaddy, Bluehost, or Google Domains and buy your domain. Just type in your company name and it will tell you whether or not the domain is available.
If your name is already taken, these providers will provide you with alternatives such as .net or .co, or another name. Choose a .com since it is the most prevalent and trustworthy domain extension. If you have your passion set on a certain name and the .com is taken, the .net and .co alternatives are also well known.
Depending on any add-ons and the service you pick, such as domain privacy, your domain name will typically cost $12 to $25 each year. You could also understand that the e-commerce platform you pick to develop your e-commerce website comes with a free domain, which brings us to our next point.
Step 2: Pick your e-commerce platform
Your e-commerce platform is the place where your website "lives" online, and you have a lot of possibilities. There are practically free e-commerce shops based on WordPress and free e-commerce platforms with restricted functionality. You may use popular website builders to add e-commerce functionality, or you can choose a specialized e-commerce platform that can handle endless expansion.
When determining where to develop your e-commerce website, examine the following top e-commerce platform options:
Dedicated e-commerce platforms
The quickest approach to establish a full-featured e-commerce website is to use a dedicated e-commerce platform. These systems are very dependable and extensible, with features such as secure payments, shipping labels, email marketing, and in-build multichannel sales support. These services come with a lot of features and start at roughly $30 per month.
The following are three excellent specialized e-commerce systems to consider:
BigCommerce: BigCommerce is a multichannel e-commerce platform that is possibly the most extensible for small businesses. Monthly plans start at $29.95.
Shopify is the most popular specialized e-commerce platform, and it's excellent for drop-shippers and entrepreneurs. Plans with Shopify start at $29 per month.
Shift4Shop: Shift4Shop is another strong player in the specialized e-commerce platform industry, with a $19 monthly beginning plan.
All of these specialized e-commerce platforms provide a risk-free trial period, allowing you to try them out before selecting which one to employ to develop your e-commerce website.
Website builders with e-commerce features
Wix, Weebly, and Squarespace are all popular website builders that include e-commerce features. If you currently have a website on one of these platforms, just upgrade to an e-commerce plan to add online sales functionality.
Wix: Starting at $23 per month, Wix provides hundreds of gorgeous, easy-to-use website designs with e-commerce functionality.
Weebly: For $25 a month, you can construct a stunning site with e-commerce options with Weebly, which is similar to Wix.
Squarespace's e-commerce services start at $30 per month, and there are hundreds of design templates to choose from.
The DIY and side-gig audience favors website-building platforms because of their simplicity. A specialized e-commerce platform, on the other hand, provides more integrated sales and marketing tools for comparable rates if you're developing an e-commerce website with the intention of growing.
E-commerce plugins for WordPress
The WordPress platform is very useful and it powers more than half of the world's e-commerce websites. There are two reasons for this. First, WordPress is basically limitless—you can create anything with it; and second, it may be a low-cost e-commerce solution. In reality, the following e-commerce plugins will to add more online shop capabilities to any WordPress website for free:
WooCommerce: The WooCommerce plugin for WordPress gives full e-commerce capability.
WP EasyCart: It's like WooCommerce, except WP EasyCart adds a complete set of online store features to WordPress.
BigCommerce: Integrating WordPress with BigCommerce allows you to sell across several channels while simultaneously growing your business's online presence.
Platforms for e-commerce websites that are free
Free e-commerce systems allow small enterprises to sell few goods online without incurring any upfront or recurring costs. These platforms either offer less functionality or restrict the amount of goods you can list for free compared to the e-commerce solutions mentioned above.
Consider the following three free e-commerce systems for your e-commerce website:
Square's free online shop, included in every Square account, allows customers to extend their business online effortlessly.
Freewebstore: Freewebstore is a free e-commerce platform that allows you to sell up to 20 goods; premium plans will enable you to sell more.
Ecwid: Ecwid provides a free e-commerce website with up to ten goods; premium plans include more products.
Choosing an e-commerce platform is a crucial stage in the development of your e-commerce website. So, before deciding on a solution, test-drive the possibilities and think about your development ambitions.
Step 3: Plan how your e-commerce website will look like
It's time to start designing your e-commerce website after you've decided on an e-commerce platform. You'll need to collect the following pieces and information for this:
Logo and brand imagery
All e-commerce systems allow you to build a basic type logo, or you may use Canva's free logo templates to make your own. Canva also features royalty-free photographs that you may use to help brand your website if you're in a bind. Your own branded photos will communicate your message successfully. DIY mobile phone photos, when done correctly, are surprisingly fantastic for this—so give it a go.
Product photos, descriptions, and data
Product information is prominent on most e-commerce websites. Thus, it's an essential component of the design process. Here are some pointers on how to promote your items effectively.
Great product photos: With a mobile phone camera, you can take stunning product photographs. Take images from several angles and also you can show your items in use.
Product videos: To sell items, you don't need a flashy, expensive video. Authentic, real-life films have proven to be practical sales tools, and you can make them with your smartphone.
Detailed product descriptions: Want to cut down on customer emails and phone calls? Make excellent product descriptions that include all pertinent information. For each product, provide the size, weight, material, and answers to commonly asked questions. To improve search engine rankings, include keywords in product names and descriptions where it makes sense.
Product options: Variables are options like size and color, and e-commerce systems allow you to add many variables for things that come in various sizes, colors, and so on.
Product SKUs: In addition to any manufacturer codes, note your SKUs (stock-keeping units). Including the manufacturer's code in the product, data is a good idea since buyers may search for a product using that code.
Product pricing: Many e-commerce systems allow you to price items individually and in groups, as well as provide sale and discount prices. Some even allow you to keep track of your product expenses for analytics.
Item size and weight: The dimensions and weight of an item enable e-commerce systems to calculate real-time shipping charges and print labels. This step is optional but it may save you time by automating your shipping procedure.
Inventory: Fill in a stock quantity for each item, and your e-commerce platform will keep track of your inventory as it sells.
Your story
Make the "About Us" part of your e-commerce website shine since here is your time to interact with prospective customers. Share your journey—is it the realization of a long-held ambition? Or is it just a fun side hustle? keep purchasers coming back for more, embellish it with photographs and videos and make it fun and engaging.
Pages dedicated to customer service
Excellent customer service keeps customers coming back, so utilize your e-commerce website's customer service page to outline expectations explicitly. The following are vital factors to consider:
Rates and delivery times: Give examples of your regular shipping turnaround times, charges, and average delivery timeframes.
Exchanges and returns: Cover your return policies and clarify who is responsible for the return freight, so there is no confusion.
Policy on data protection: A privacy policy is a legal requirement on your website, and most e-commerce systems supply a generic statement that you may use.
Blog content
Blogging is a fantastic method to provide continuous content and improve the search engine positions of your e-commerce website. If done properly, blog entries may become an integral element of your marketing plan. You may reuse the content in social media and email marketing to get additional sales out of your efforts.
Navigation that is simple to use
Shoppers can explore your store, blog, and website content – thanks to the menus on your e-commerce website. Most e-commerce websites allow you to create the main menu bar, as well as footer menus, top and sidebar menus, and occasionally both.
It's standard practice to emphasize your online shop categories in the main menu, then utilize the footer or top bar for pages like Customer Service and About Us. Blog entries may be added to the main menu, the sidebar menu, or the footer menu. Try out more options here to determine which design and content work best for you.
Step 4: Set up payment, shipping, tax, and marketing tools
An e-commerce platform will determine how you tackle these activities while creating your e-commerce website. Payment processing, marketing capabilities, shipping label printing, and tax computations are all included in all-in-one platforms like BigCommerce and Shopify. The other platforms need to integrate a few additional services to have these services.
Payment processing and tax table setup
All of the e-commerce website platforms mentioned above include built-in support for popular payment systems like Square, PayPal, and Stripe. You just need to click a few buttons to allow payment processing with these solutions, set up your account, and you're linked.
You may also link your own payment processor and digital wallets to most e-commerce systems. Built-in and plug-and-play payment systems, on the other hand, are the easiest and most cost-effective solutions for startups.
After you've set up your payment processor, you'll need to set up the sales tax rates collected from customers. Sales tax collection is supported by all e-commerce website systems, and you can apply taxes to specific or all goods. Your sales tax rate is determined by your state and, in most situations, your total sales volume.
Shipping setup
To expedite the order fulfillment process, you can—and should—integrate shipping software with your e-commerce platform. Purchases are easily connected to shipping software, allowing you to choose carriers and delivery options, print labels, and immediately inform consumers when their orders have shipped.
BigCommerce, Shopify, and WooCommerce all have built-in shipping, so the setup is quick and painless. To print labels and provide customer alerts on other platforms you need to connect to a third-party service like ShipStation or ShippingEasy. These interfaces work with almost all platforms, but they might add to your monthly fees.
You may design shipping rates for charging shipping expenses after setting a shipping solution. Most e-commerce sites allow you to include real-time rates, which are the actual shipping costs for each purchase. You may also charge flat prices depending on order totals or provide free delivery on all or specific items.
Email marketing and social media setup
Some e-commerce website platforms have extensive built-in marketing options, similar to payments and shipping. Solutions that are all-in-one with complete marketing toolkits, BigCommerce and Shopify lead the pack. In just a few clicks, you can create and utilize email lists to engage with consumers, sell items and distribute promotions across your social media profiles.
Setting up marketing tools on other e-commerce systems takes a little more effort. You may free plugins to connect WooCommerce to popular email marketing providers like MailChimp. You'll need to pay for plugins to link your items directly to social media accounts for social commerce.
The time you spend on this phase is determined by the e-commerce platform you use. Dedicated e-commerce systems make it simple to create an e-commerce website with all of the marketing bells and whistles.
Step 5: Test and unveil your e-commerce website
Processing a few test orders is the last stage in developing your e-commerce website. Each e-commerce platform conducts testing differently, but they all allow you to place a few pre-launch test purchases. These test orders establish a connection with your payment gateway but do not charge your credit card. You're ready to open for business after you've successfully submitted a few test orders—or fixed out any faults you found when browsing around your e-commerce website.
Of all, starting an e-commerce site does not guarantee immediate revenue. Search engines take time to discover and index your new online business. There are several ways to speed up this process, including signing up for Google's Search Console and supplying an XML sitemap.
Meanwhile, you may use social media and Google Adwords advertising to spread the news about your e-commerce business once it's up and running.
Bottom Line
We provide the most functional e-commerce website and mobile application development services at Iexperto to give your consumers greater ease and usefulness. We are the most outstanding freelance e-commerce website developers in the United States, and we can help you align your business for more success.
We are a team of highly creative and skilled freelance developers in the USA and Canada that collaborate to give you a professional and trustworthy e-commerce website that produces exceptional results. All of our systems are designed specifically for your company's needs, and we provide the most personalized and practical solutions.