Must-Have Features in a Learning Management System (LMS), who could best benefit & might use an LMS?
By: Nahida Haque / 26 August 2021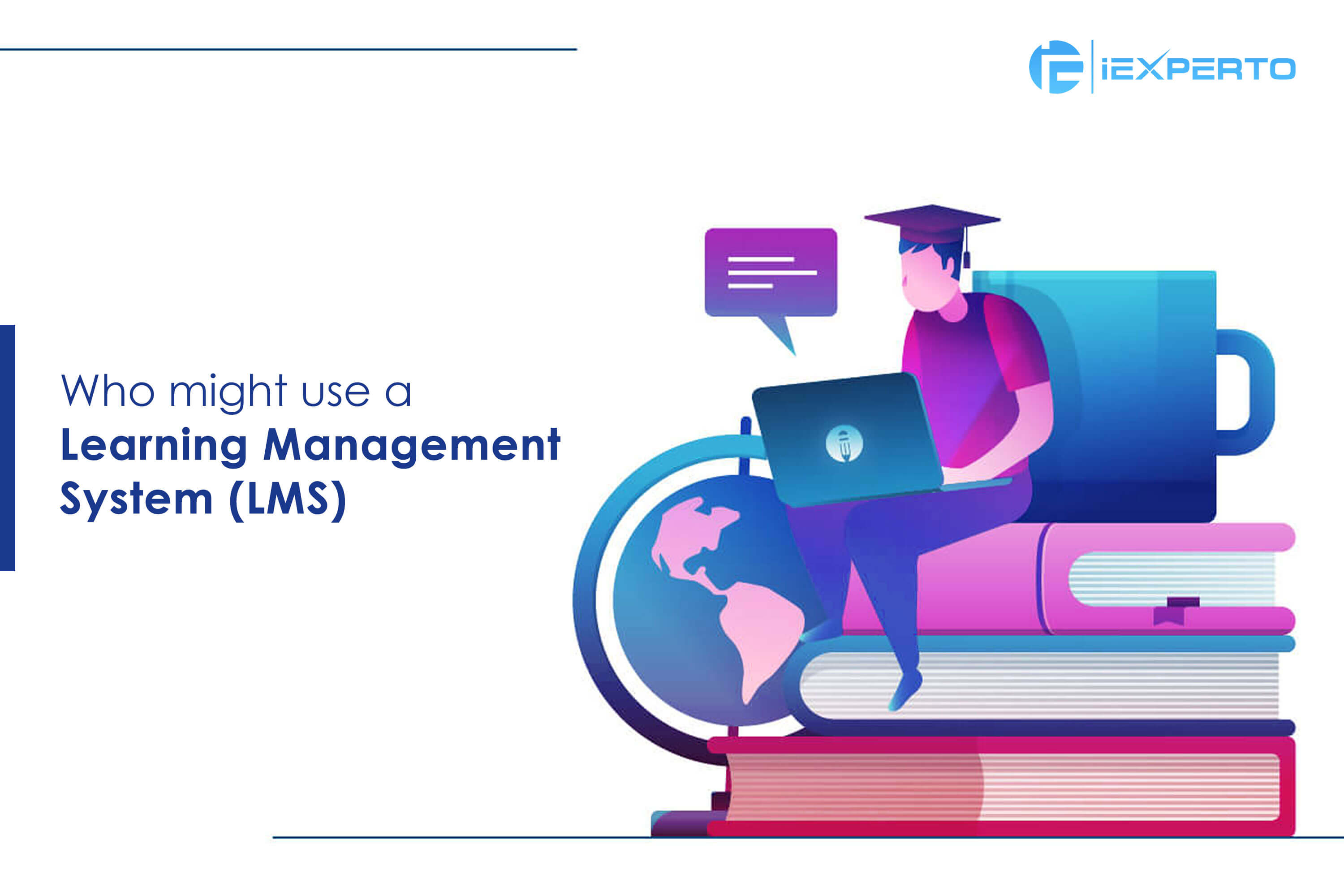 Today, LMSs, short for learning management systems, come in all shapes and sizes. With the phenomenal benefits they have in store for organizations, they've been drawing more and more attention from all types of industries. But anyone new to the world of LMS will most likely have a ton of questions: What exactly is an LMS? Which features are essential in LMS web design? And who can benefit from them the most?
If this sounds like you, then you've come to the right place. As a top-tier USA LMS Web Design Company, we've got plenty of experience building learning management systems that deliver results. So today, we thought of addressing those specific questions many new clients often grapple with.
If you're contemplating whether you should invest in an LMS, then this guide is for you. We're going to dive into two critical areas that'll help you make a sound decision: Who can benefit from an LMS and what essential features you should have to make the best out of it.
What is an LMS?
Before we get started, it's first important to understand what a learning management system means. So, let's break it down to simplify.
Learning – The entire focus of an LMS is to facilitate and streamline learning activities by delivering training programs in various formats.
Management – It helps manage your entire learning process by, for example, creating training modules, storing course content, and tracking progress.
System – It's essentially a system or a one-stop shop to carry out all your training activities.
So, in other words, learning management system development involves the setting up of a platform where you can implement and manage your organization's learning programs. It'll contain front- and back-end interfaces, so your learners, trainers, administrators, and management can seamlessly interact with it. For example, trainers can create courses, learners can access study material and training programs, and the management can monitor and track progress all on a single platform.
Why do companies need an LMS today?
Now, setting up an all-in-one learning platform sounds great in theory. But how exactly can it benefit organizations? Let's take a look.
1. Increased efficiency
Experienced USA LMS developers understand the importance of delivering efficiency through a well-designed LMS solution. For example, having all training materials in one place can simplify the teaching process for your trainers. Even course creation becomes a hassle-free and seamless process with standardized templates and easily accessible learning material. They can give out quizzes and assignments, monitor the learning progress of each student, and adjust course content on a single learning platform.
At the end of the day, all these could translate into incredible time savings and efficiencies for your team.
2. Improved learner engagement
An LMS allows your learners to access training programs and course materials from anywhere they want at a time convenient to them. It eliminates the need to make themselves available at specific times as in traditional classroom sessions. It's the perfect solution for anyone looking for self-paced learning.
Besides, trainers can integrate videos, presentations, and webinars to make their courses more interesting and accessible. You can even have social learning and gamification tools to take the learning experience to the next level. And needless to say, when learning becomes more accessible, convenient, and exciting, you can expect better learner engagement and improved learning outcomes.
3. Better control of the learning process
When all your learning activities are in one place, you get to enjoy a 360-degree view of the learning process. It will allow you to standardize activities, from course creation and delivery to assessment and tracking. It's invaluable for compliance purposes, too.
An LMS platform will also provide access to an incredible amount of data, which otherwise would have been impossible to get hold of with a manual system. And data is a powerful weapon in any business. It'll allow you to set measurable goals, track activities, assess progress, identify gaps, quickly implement solutions, and make insight-driven decisions. These are the perks of having a tight grip on your organization's learning process.
4. Higher scalability and adaptability
Experienced USA LMS development companies can build a highly scalable solution that's specifically adapted to serve your organization's needs.
For example, if cost is an issue for you, then you can opt for an open source learning management system. These are less expensive than custom eLearning development but might still provide enough functionality for your needs.
A WordPress learning management system, for instance, could be an excellent option for a low-budget, tried-and-tested platform with basic features. But if you have distinct user requirements and need a feature-rich LMS, you can opt for custom LMS development.
The point is, there's an LMS solution for every company, regardless of your requirements and budget. And these platforms can be pretty flexible, too, so they can easily scale as your business grows.
5. Significant cost savings in the long run
Cost savings become a given when there are dramatic improvements in efficiency. Just think about it. An LMS can help trainers create and deliver programs much faster by removing repetitive and non-value-adding tasks. This allows them to work more quickly and take up even more training work.
On the other hand, when course materials and learning activities are available online, the typical costs attached to traditional classroom sessions, like printed materials and overheads, become redundant.
In fact, this ability to bring down costs is one of the biggest factors driving the switch to elearning today. IBM, for instance, has reported a $200 million saving as a result.
Who uses an LMS?
Are the benefits of an LMS best enjoyed by specific organizations or industries? This is a question that often pops up with many of our clients. Contrary to popular belief, LMS development is not limited to specific industries or types of business. Anyone with sizable learning activities can take advantage of an LMS solution and gain tremendous benefits in the medium to long term.
Here are the types of organizations that frequently adopt LMS platforms.
1. Profit-making businesses
Any business that's serious about employee training and development can benefit from an LMS, regardless of its industry or scale. For many companies, employee development is a critical part of their business strategy. And an LMS is the easiest way to improve learning outcomes with greater accessibility and ease for busy executives. In fact, 72% of businesses now believe that an LMS could be a competitive advantage. This is likely why it's adopted by a range of companies, from tech firms to retailers and consulting businesses.
2. Government agencies and non-profit organizations
LMS solutions are equally popular among government and non-profit organizations that manage a substantial workforce scattered across different locations. Not only that, but it's also an invaluable tool for organizations that carry out external training and awareness programs for communities and the general public.
3. Educational institutes
Schools and universities tackle countless courses and classes on a daily basis. An LMS is an excellent tool in such a setting to organize and manage varied and complex learning curriculums for students. It's also a great way to effectively engage the tech-savvy younger generations and help them achieve better learning outcomes.
4. Online training institutes and independent trainers
Institutes and trainers who regularly carry out online programs can significantly benefit from a learning management system by integrating all their programs into an easy-to-manage platform. They can even sell their courses with marketing tools, pricing plans, payment gateways, and membership programs.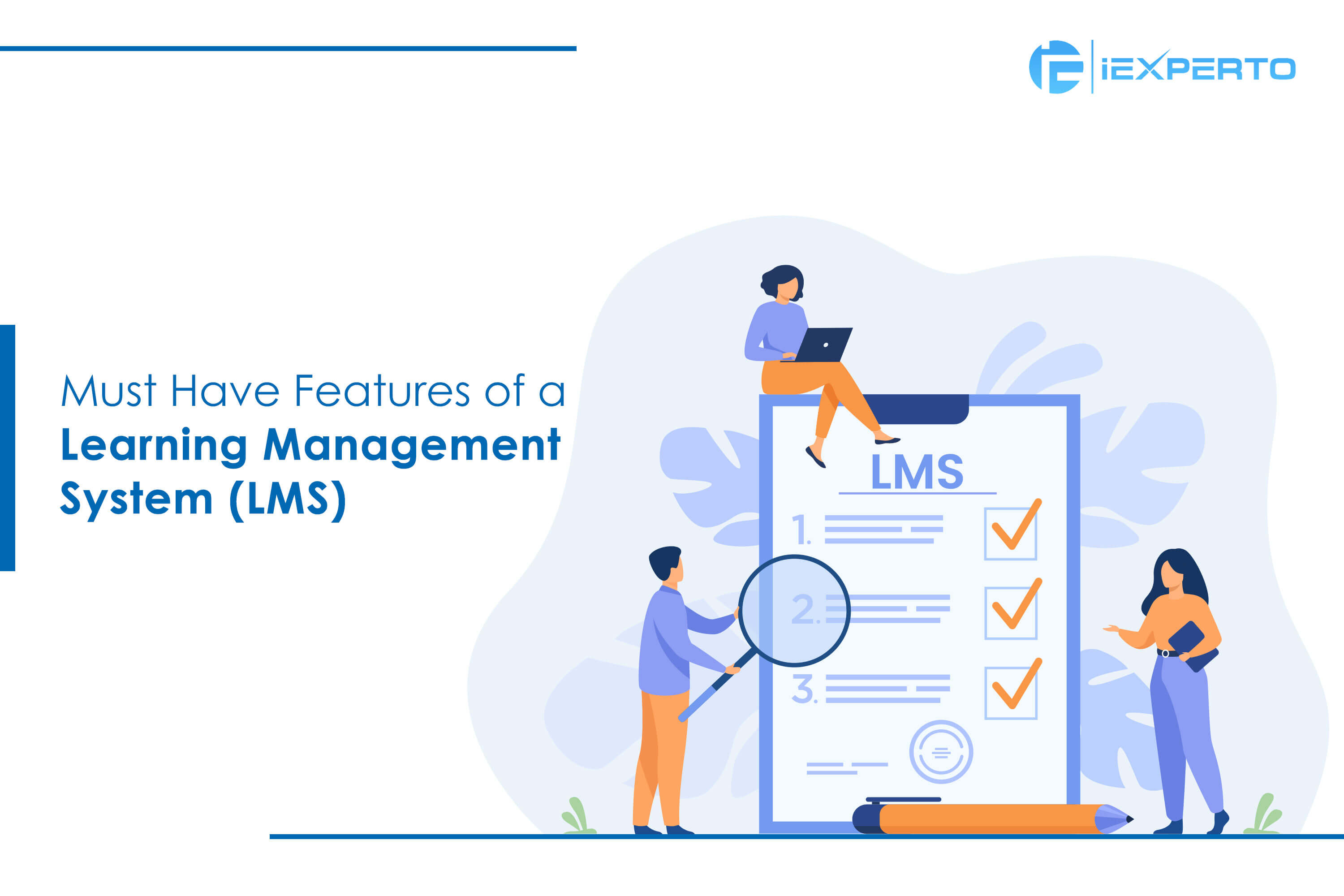 Must-have features of a general learning management system
Now, if you're convinced that you can gain substantial advantages with an LMS, then it's time to look at the essential features for your platform. Here's what every LMS should have to rip the benefits of a highly functional learning management system.
1. An engaging and seamless user interface
An effective user interface is critical for both your trainers and learners. Without it, the front- and back-end user experiences could seriously suffer. As a result, students might be reluctant to pursue your courses, and trainers could become less efficient. This is why you need an experienced USA LMS web developer who understands the fundamentals of designing and developing a seamless and functional user interface.
2. Content management tools
Top-class content management tools are critical for your LMS. After all, content is key for any learning management system. Your trainers should be able to create courses, organize and manage them effortlessly, store them safely, and deploy them seamlessly for different user needs.
3. Data analytics and reporting
One of the most significant advantages of an LMS is its ability to provide data insights. It's a treasure trove of data about every aspect of your learning activities, from learner engagement to course effectiveness. So, ensure you discuss your data and reporting needs with the learning management system developer you hire so that the LMS they build can support you with in-depth insights.
4. A responsive design
Predictions set in 2020 expect mobile learning to grow by a whopping $57.7 billion in just seven years. It comes hardly a surprise considering the fast-paced lifestyles of today's learners. So, a responsive design that can adapt well to different screens, from smartphones to tabs, is critical for your LMS to deliver effective results.
5. User profile creation
The ability to assign user profiles has many advantages. It can help you engage with each learner, deliver customized programs, provide individual feedback, and track their progress with better insights. In other words, it's an essential feature to provide personalization and better functionality to suit each learner. At the same time, it can allow you to create and implement membership programs, drip content, and restrict access based on predetermined criteria.
6. Assessments and evaluations
Custom eLearning companies can integrate assessment and evaluation features that can specifically cater to your organizational needs. For example, you can in-build assignments, quizzes, gamification tools, badges, and certifications. These could be invaluable in measuring the effectiveness of courses and their delivery, evaluating learners, and supporting them better to achieve their learning goals.
7. Integration with other platforms
Chances are you're already working with one or more other content management solutions like HRIS and marketing tools within various functions. And if your LMS can integrate well with them, it can open up an entirely new dimension of benefits for your organization. So, integration capabilities should be a key consideration when embarking on LMS software development.
Must-have features for corporate LMS
Are you a company looking for a USA LMS website development solution to ramp up your employee training and development strategy? Then here's what your corporate LMS should have.
1. Seamless course creation and delivery
An effective LMS can make creating, managing, and delivering course content a breeze for your trainers. It should allow your team to effortlessly design engaging and impactful course material by integrating multiple content formats, from videos to presentations. And it must make content delivery and assessments a seamless process, too. All these should be hassle-free and convenient and must require little to no technical expertise.
2. Automation tools
There are various functions an LMS can help automate and, thereby, eliminate time-consuming and repetitive tasks. For instance, once your trainers create a multi-tier course, your LMS can use automation tools for part or most of its delivery. It can guide learners through different program levels, give out quizzes, and distribute badges with minimum human intervention. You can even automate regular communications with standardized emails and text messages, for example, to send reminders and follow-ups.
3. Reports and data insights
Reporting features are essential to measuring the effectiveness of your corporate L&D strategy. They can help you track skill levels right down to every employee and monitor the performance of each trainer. Through access permissions, you can even make learner progress accessible to respective supervisors and senior management for feedback and evaluations.
4. System integrations
You can get your LMS to work twice as hard by enabling better integration with other content platforms and tools used in your business. For example, you can integrate the LMS with the human resource information system so that performance evaluations, employee skill gap assessments, and training are all seamlessly tied together. These integration capabilities can enable greater efficiencies, more time savings, and better decision-making.
5. User-friendly functionality
If your LMS isn't user-friendly, then your entire investment will be in vain. A superior user experience is critical to engage learners. It could help them achieve better knowledge retention and follow their courses to the end. For this, you need the right functionality, from engaging course formats to mobile-responsive capabilities. The site structure must also accommodate easy navigation and seamless content flow.
6. Learning portals
Learning portals enable you to create customized learning environments for each of your audience groups. For example, you can set up separate training programs with personalized designs and features for the middle management, senior team, and even suppliers. It will enable you to customize the learning experience based on their unique needs. Plus, you get to manage different learning strategies independently on a single platform.
7. Gamification tools
According to research, 89% of employees believe that gamification gets them into a competitive mood and makes them more willing to complete tasks. This is exactly why it should be a key feature in your LMS, too. It could help engage your teams better and make them more interested in advancing through courses. And today, there are plenty of gamification tools to integrate, from leaderboards to badges.
8. Social learning
The case for social learning is pretty convincing. Studies show that social learners go through 37% more course content compared to others. In addition, integrating social networking tools and forums can help create a community environment where users can share experiences, learn from one another, and support each other to progress through the training programs.
9. Authoring tools
Authoring tools will help you create and manage course content in a standard format. So, selecting the right one for your needs is critical before setting up your LMS. For this, you'll also need to ensure that it's compliant with protocols like xAPI and SCORM.
10. Brand integration
As an important internal platform, your LMS should align with your company branding system. So, it should integrate your brand colors and design themes and feature your logo and other branding elements. This will allow the LMS to become part of your brand assets, so there's greater consistency in the employee experience.
Must-have features for academic LMS
If you're an educational institute like a school or online course provider, an effective LMS can deliver incredible learning outcomes. Studies reveal that for 81% of US college students, digital learning technology was pivotal to improve grades. But choosing the right features is essential to achieve this level of impact.
Here are the must-have features for your academic LMS.
1. Multiple content formats
One of the best features of an LMS is the various engaging content types it can allow. These platforms enable trainers to integrate dynamic formats such as infographics, GIFs, videos, and webinars, instead of the monotonous text-based material that traditional classroom sessions typically provide.
2. Social and community learning formats
Social learning is another distinct advantage of an online learning platform for academic institutes. Peer-to-peer learning could be a powerful tool to improve knowledge retention. It can even speed up the learning process, especially for younger learners. They can ask questions from peers and share their achievements for social recognition. It's an excellent way to leverage community support and achieve better learning outcomes.
3. Notifications and alerts
Notifications and alerts are essential features for any academic LMS. For example, you can use them to remind students about assignment submission deadlines or provide a gentle nudge to progress through the course. And these could be integrated with system-generated emails or even text messages for consistent and standardized messaging.
4. Assessment features
Assessments allow learners to understand how they are faring and enable trainers to determine their student's individual learning needs. Regular quizzes, assignments, and the like are also crucial to get an idea about the efficacy of the study programs in terms of achieving learning goals, so you can make adjustments to rectify any gaps.
5. Personalized learning experience
A customized learning experience can ensure better engagement and overall learning outcomes for both the students and trainers. With the right personalization features, each training program could provide a unique learning experience for your students based on their learning habits and pace. It's essential to help them progress through the courses more effectively and, in effect, improve the success rate of your programs. As a result, you can enjoy higher student registrations and more revenue in the long term.
6. Mobile-ready learning
Today, mobile screen time is at an all-time high. And more people of all ages are consuming content on the go. So, mobile readiness is critical to boosting an LMSs usability and appeal.
Besides, students are more likely to engage with your platform when it allows them to learn at their convenience. After all, mobile learning is the future of elearning. And you should be geared with the right LMS functionality to future-proof your learning programs.
7. Scheduling options
Academic institutes naturally deal with a large number of classes. And managing them with a manual system could be time-consuming. But with the right features, your LMS can allow you to schedule your classes, assign one-on-one sessions, make quick changes, and notify students on a single online platform. When all timetables are accessible online, it can make life easier for your students, too.
8. Enable compliance
Educational institutes must conform to various government and industry regulations, requirements, and best practices. But when you have integrated all your learning activities into an LMS, compliance becomes effortless and easy to monitor. You can generate reports instantly, and there's also far less room for errors in data tracking.
9. Security features
Data security is a critical aspect for any organization, and even more so for those in the academic sector. A security vulnerability could make your programs unavailable for students and may even wipe out some of your course content. The potential risks are many, from malware attacks to ransomware. All these make security features a top priority for your academic LMS.
10. Data tracking
With data tracking tools, you can measure the effectiveness of your programs and identify trends in real-time. You can also detect issues as and when they arise and make data-backed decisions to achieve better outcomes. An LMS can make all this data available at a click of a button with quick report generating tools and user-friendly interfaces.
To sum up
A learning management system is an essential tool for an organization with reasonable learning activities. It's an all-in-one solution to create courses, organize and deliver training, track learner progress, and manage the entire learning process online.
In short, if you've been managing your learning activities manually all this time, then an LMS can transform your entire learning system. It can boost learner engagement by leaps and bounds and deliver incredible efficiencies for your trainers. In addition, an effective LMS can offer better control over your processes, provide greater scalability to fit your organization's needs, and deliver amazing cost benefits in the long run.
And the benefits of an LMS are not just limited to the traditional educational institutes like schools and universities. Businesses, government agencies, non-profits, e-course providers, and independent trainers can all enjoy its advantages at an equal level.
But to get the best out of your LMS, you need to integrate the right features. Today, LMSs can offer a host of tools from content creation, assessments, and reporting to responsive designs and third-party integrations.
Now, whether you're a medium-scale retailer or a large-sized academic institute, it's critical to customize your LMS with the essential tools that could serve your requirements. Remember, feature-rich functionality comes at a cost, and you need to ensure that your investment is getting you tangible results. But with an experienced USA LMS Web Design Company, this entire process could be seamless and effortless.
Learning Management System USA
iExperto is the number one choice for USA LMS website development with extensive experience in building highly functional, scalable, and result-driven solutions. Our clients choose us as their LMS partner for our proven industry expertise, top-notch customer service, and budget-friendly products.
With a team of LMS experts and the latest technological tools, our LMS development services are designed to serve your every learning management system need.
WordPress LMS website development
CMS learning management system in the USA
LearnDash development
Custom eLearning development services
Want to find out how your organization can benefit from a world-class LMS solution? Get in touch today for a free demo!