Custom LMS Development Services to Enhance Your Learning Experience
By: Nahida Haque / 26 October 2021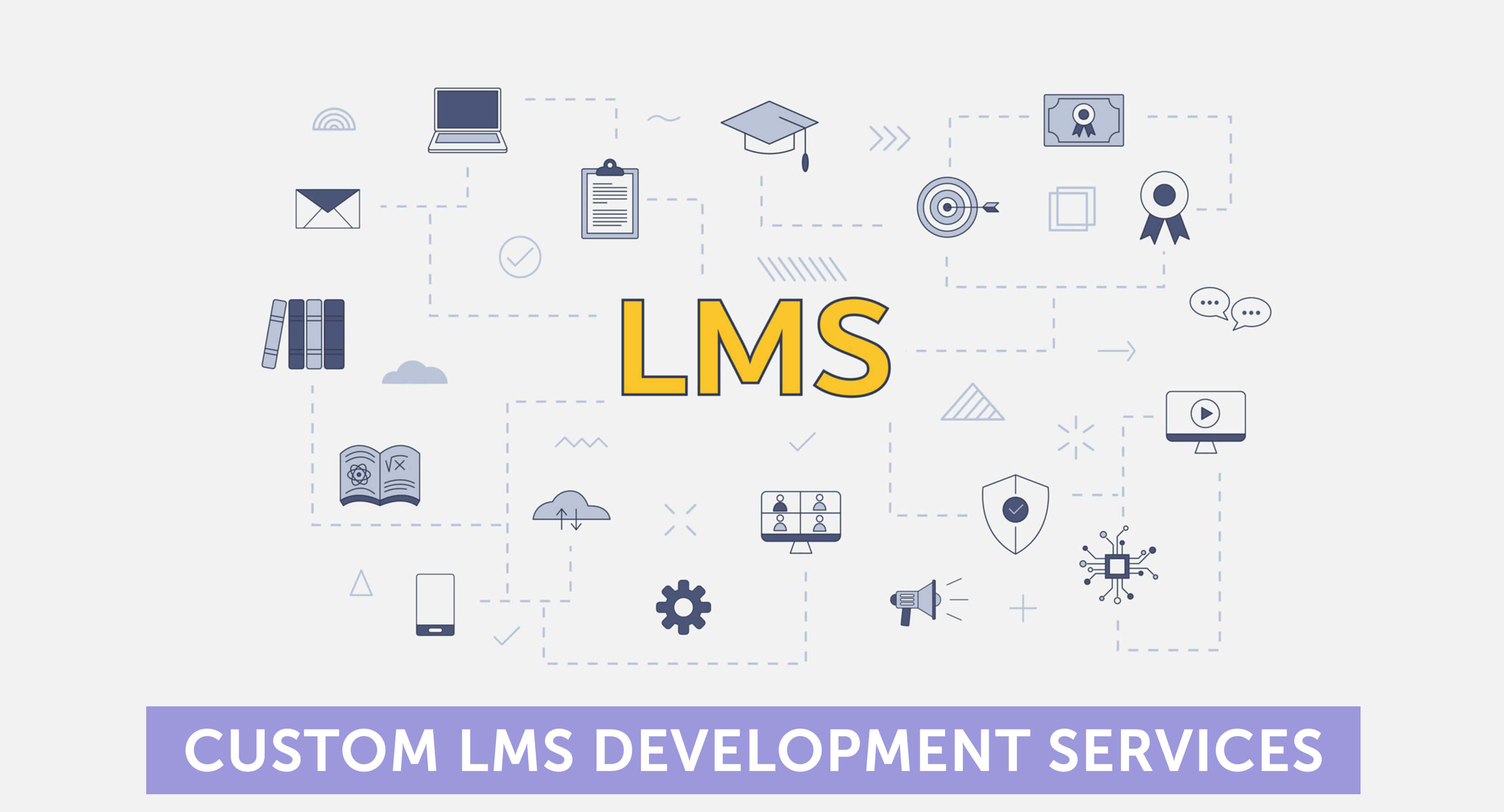 Every educational institute knows the countless challenges of managing and delivering study programs. Maintaining course quality, tracking student registrations, monitoring student progress, and ensuring teaching effectiveness are all part and parcel of the daily struggles for schools, colleges, universities, and other public and private educational institutes.
But learning management systems, better known as LMSs, have significantly eased this workload and brought in high levels of efficiencies for these organizations. Of course, we've talked about LMSs in detail in our previous articles to help you understand the exponential value they can create for learning environments. So, today, we're going to explore another important topic—custom LMS development.
But this is not just for educational institutes. It's a topic that even regular businesses should take note of. After all, today, employee training and development is a critical factor for staff retention, business competitiveness, and revenue growth. So, as companies increase their employee training budgets, they need to find ways to ensure their investments yield optimum returns. And custom LMS development might be the perfect solution.
What is custom LMS development?
As the term implies, it's about customizing your learning management system, so it's tailor-made to your unique requirements. But let's bring in some context to better understand the growing popularity of custom LMS solutions.
Broadly speaking, there are two ways to set up an LMS: you can opt for a ready-made platform or custom-design it to meet your needs with precision.
The first option is best for any organization with simple learning management needs. It's cheaper and takes much less time to set up. But there's one downside: you're pretty much stuck with the default features that are already built-in to the ready-made platform. And if you need any extra functionality, you'll have to manage without them. At the same time, you will be paying for certain default features that your organization wouldn't really need. Some platforms might, of course, allow you to pick and choose from a pre-defined list of features. But overall, you might find this one-size-fits-all approach inflexible and not very effective.
Now, mid to large-sized educational institutes and large-scale organizations typically have complex learning management requirements. And ready-made platforms might not be equipped to serve their needs effectively. In these instances, custom LMS development is the best option. It allows you to build a tailor-made learning management system and ensure that it's the perfect fit for your organization.
Why custom LMS development should be your best choice?
There are several essential benefits of having custom LMS development for your business. Here's what you should know.
1. Higher usability
When you custom-build an LMS, its usability becomes much higher compared to a ready-made platform. For example, you can integrate automation technologies for critical repetitive tasks, build in content creation tools required to custom design study programs, and gain full visibility of the entire learning process.
2. Personalized learning
With custom LMS development, you can offer a personalized learning experience to students. For instance, with multi-device accessibility, they can learn at any time and from anywhere. You can even integrate self-paced learning programs, track individual student performance, and quickly provide personalized feedback. All these can improve student interest and engagement, boost knowledge retention, and provide better learning outcomes.
3. Improved efficiency
A tailor-made LMS can deliver efficiencies on a massive scale. Just think about eliminating repetitive tasks and speeding up course creation processes with custom-designed tools and templates. You can even streamline the student registration and communication processes with the help of technology and save a massive amount of time as a result.
4. Long-term saving
The benefits of a custom-built LMS have long-term effects, particularly when considering cost savings for your organization. For example, it can bring down training costs by improving staff efficiency, reducing overhead costs, and even putting an end to printing course materials and handouts.
5. Better compatibility
Now, in many instances, you can achieve significant advantages by integrating your LMS with other internal platforms. For example, by linking it with your HRIS platform, you could integrate employee learning and development activities with performance and rewards. And if you're in the business of selling courses, you might want to link your LMS with marketing tools to cross-promote programs based on learner progress. And custom LMS development can make all this possible.
6. Higher scalability
A scalable platform offers better flexibility. For example, when you expand your business to a new location or introduce new courses, a scalable LMS can accommodate your new requirements with little hassle. A ready-made LMS, on the other hand, might not be so accommodating.
7. Better control
Another important advantage of custom LMS development is that it could allow better control over how you manage your learning activities. You get to determine the exact functionalities required based on your organization's priorities. For example, you can set up the right level of security and data tracking and reporting functions based on your exact needs.
8. Your very own LMS
A tailor-made LMS platform is your very own unique product. It's essentially an asset and part of your organization's intellectual property. Ultimately, you can even decide to sell it to other organizations one day. This is, of course, subject to the agreement terms you have set up with the LMS developer.
Custom LMS: Key features
The features you select for your LMS will determine its functionality and usability. So, it's essential to carefully assess the value they can each add to your organization. Let's look at some of the popular features to integrate.
LMS features: Success factors for custom LMS
1. Course creation and management
You can integrate various tools and templates to make course creation and content management easier for trainers. When all course material is in a single location, managing them for better quality and consistency becomes effortless.
2. Online learning management
With admin dashboards and integrated processes, the trainers and management can easily monitor and track course delivery and progress. This will help improve the efficiency of study programs and how they are delivered.
3. Multi-device accessibility
Your LMS can provide a seamless learning experience across multiple devices with intuitive and responsive designs. This allows a high level of flexibility for learners so they can study at their convenience.
4. Social learning
Social learning has many proven benefits, from improving learner engagement to boosting knowledge retention. And custom LMS development can allow you to integrate various social learning tools like forums, peer recognition programs, and collaboration tools.
5. Gamification
Studies show that gamification-based learning can improve student performance by nearly 35%. So, its growing popularity hardly comes as a surprise. Now you can integrate gamification tools to your LMS, too, with features like leaderboards, badges, and rewards.
6. User access management
Authenticating users and managing access is a critical function for many organizations. For example, it could help restrict access to courses, so only registered students can take part. It's a valuable feature to manage back-end data access as well.
7. Third-party integrations
When third-party integrations are enabled, you can link your LMS with other platforms, like an HRIS or Content Management System. This creates added ease, efficiency, and functionality.
8. Data analytics
One of the critical features to have in any custom-designed LMS is data tracking and analytics. Your learning management system should generate essential data reports to help you make informed decisions as well as to identify issues and quickly make course corrections.
9. Compliance
Custom LMS development allows you to monitor all your learning processes and track data on a single dashboard. It enables you to maintain higher quality standards and benchmark against set parameters. And transparency and accuracy of data also make regulatory compliance effortless.
10. Security
An LMS naturally involves a substantial amount of critical data, from student information to copyrighted course material. So, protecting them with the right security features is essential.
Useful integrations for custom LMS
Apart from the must-have custom LMS features, there are certain important integrations that could dramatically improve the functionality of your LMS and optimize the overall efficiencies it can bring to your organization.
Here are some of the common third-party integrations to consider for your tailor-made learning management system.
Content management system – Integrating your LMS with a CMS can allow you to store and manage all course materials, including training content, assignments, and assessments.
Human resource information system – This integration can enable your HR team to update employee files with training and development activities and link them to rewards, employee evaluations, and promotions.
Customer relationship management system – By integrating a CRM platform with the LMS, you can, for example, track your customers' purchasing activities, communicate with them as they progress through each course level, and upsell study programs.
Ecommerce integrations – This is an important integration for any organization looking to monetize its courses. It can allow you to seamlessly link online sales functions with learning activities.
Video conferencing tools – Video conferencing facilities can allow trainers to conduct remote classes, set up one-on-one sessions with students, and do much more.
Custom LMS costs and ROI
So, how much would custom LMS development cost your organization? The answer to this question will depend to a great extent on the type and level of features you require. Of course, the fee charged will vary between LMS developers, too. For instance, a larger agency with higher overheads will naturally charge you more than a mid-range company.
Now, we can broadly outline the average project cost based on the scale of your operation as follows. But keep in mind that a mid-sized organization may sometimes manage with a simpler LMS that we've outlined for smaller enterprises here, and vice versa. So, remember to evaluate your operational needs and future plans and use the below cost indications only for guidance.
For small-scale organizations:
The cost of a tailor-made LMS that caters to small-enterprise needs could typically start from a few thousand dollars. But as we mentioned earlier, it all depends on the type of LMS you're after. Usually, the least expensive option for a smaller business is purchasing a read-made cloud solution and making a few customizations to add any specific features required.
Keep in mind that a fully personalized platform might be unaffordable for a small-sized operation. So, before committing to a highly customized LMS solution, it's important to assess how critical it is for your organization and the incremental benefits it could deliver. Only opt for this route if you're convinced you can gain significant long-term advantages and that a ready-made product cannot do the job effectively.
For medium-scale organizations:
If you're running a medium-sized operation, then you can expect to pay somewhere between $40,000 and $100,000 for a custom LMS development project.
Apart from complete LMS design and implementation, you can get a decent amount of personalized functionality at this price range. For example, it can include data migration and integration with your human resource platform. Just remember, the more features you require, the more hours the developers will need to put in. So, naturally, the higher the cost would be.
For large-scale organizations:
For larger organizations with significantly complex learning management needs, custom LMS development could cost $100,000 upwards. If this sounds like a lot to you, it really isn't. That's because of the high level of added functionality. And many of these organizations easily recover this initial cost within a few years through improved efficiencies and cost savings.
So, what can you expect from this kind of investment? To begin with, you can have more third-party integrations with, for instance, your ERP and CRM. Moreover, you can add sophisticated state-of-the-art AI tools to your LMS for automation, personalization, data analytics, and reporting. It can also have advanced security features, multilingual support, and much more.
Of course, to justify this type of investment, your custom-designed LMS must deliver tangible results. Here are some of the quantifiable outcomes it could produce for your organization.
Lower training cost per student by dramatically reducing overhead, material, and operational expenses.
Improved learning outcomes in terms of learner participation, engagement, knowledge retention, and program completion.
Improved trainer efficiency, for example, with significant time savings during course creation, class scheduling, program delivery, and student assessments.
Lower staff onboarding costs, higher employee retention, and time savings for HR teams.
How to build a custom learning management system (LMS)?
Now, let's take a look at the essential steps of custom LMS development, so you have an idea of what to expect.
1. Project scope assessment
This is the essential first step in building a tailor-made LMS. Identifying your LMS needs, objectives, and expected outcomes is critical to determining the project scope in terms of budgets and other resource requirements.
You should ideally start by preparing a detailed brief together with your team. Then, sit down with your LMS developers to ensure they understand your requirements. It will allow them to effectively advise you on technology, features, budgets, and timelines based on the project scope.
2. LMS design and development
Next, the LMS designers will get to work with the UI/UX of the learning management system. Again, you can provide input at this stage to ensure it's right for your needs. Once approved, development work will commence with feedback from the designers so that the final output perfectly matches their designs.
3. LMS testing and launch
An experienced custom LMS development company will have a QA team performing extensive testing of your learning management system. Once they confirm that it's in working order, the company will launch the platform on your behalf.
4. Ongoing monitoring
The LMS developers will continue to monitor the platform for some time, even after it's launched. It allows them to rectify any errors and bugs identified during its use. Remember, no LMS would be hundred percent perfect at its launch. So, monitoring is essential to iron out any issues.
To wrap up
Organizations like universities, schools, and large-scale enterprises often struggle with ready-made LMS products, which fail to support their complex learning management needs. For them, a custom LMS solution could add exponential value.
It could deliver far superior usability, functionality, control, and personalization than an off-the-shelf product. But selecting the right features will go a long way in optimizing the performance of your LMS. Having the right integrations is equally essential.
Of course, custom LMS development could cost significantly more than a ready-made product. So, you need to ensure that it's the best option for your organization's needs. But despite the higher investment requirements, a tailor-made platform can deliver measurable results in the long term, especially with cost savings, improved efficiencies, and impressive learning outcomes.
Looking for an efficient custom LMS development solution?
Having built personalized LMS solutions for over 12 years, iExperto is fully geared to create a custom learning management system as unique as your business.
We are a full-service LMS developer with extensive experience catering to a wide range of learning management needs. Our clients consistently rank us as the number one LMS development agency for our intuitive, tailor-made solutions that deliver tangible results.
At iExperto, we understand the importance of performance-driven solutions that support unique organizational needs. So, whether you're after a multi-faceted custom learning management system for schools or an LMS platform packed with ecommerce functionality, we can deliver the perfect solution to fit your exact needs. Our expert team will design and implement your custom LMS Development feature set with guaranteed precision.
Why is iExperto a reliable custom LMS development company?
Hiring the wrong LMS partner could leave you with an inefficient platform and soaring costs. So, you need to get your custom learning management system development from a trusted company.
This is where we come in. Our clients trust us with their LMS projects for several reasons. Apart from our proven expertise in handling projects of various complexities, our unbeatable service standards are perhaps the most significant factor behind our success. We think long term and work with our clients as a trusted partner. We also ensure that we deliver what we promise, on time and on budget, without fail.
Custom LMS development with iExperto
Here's what we can offer your organization:
LMS consulting to make the learning process a success: We can help analyze your learning management requirements, recommend the most efficient features and integrations to optimize your LMS performance, determine the best technologies and solutions for your organization, and design a seamless LMS that perfectly fits your learning environment.
Developing tailor-made LMS solutions that cater to your unique needs: We'll take care of the entire development process and ensure a hassle-free experience for you as a client. Our services cover the entire design-to-implementation process, including quality testing, launch, staff training, and support.
So, if you're looking for skilled custom learning management system developers, get in touch today!
Get your LMS built by the best developers in town!