Choose the Best Montreal Web Design Company to Strengthen Your Business Website
By: Nahida Haque / 22 September 2021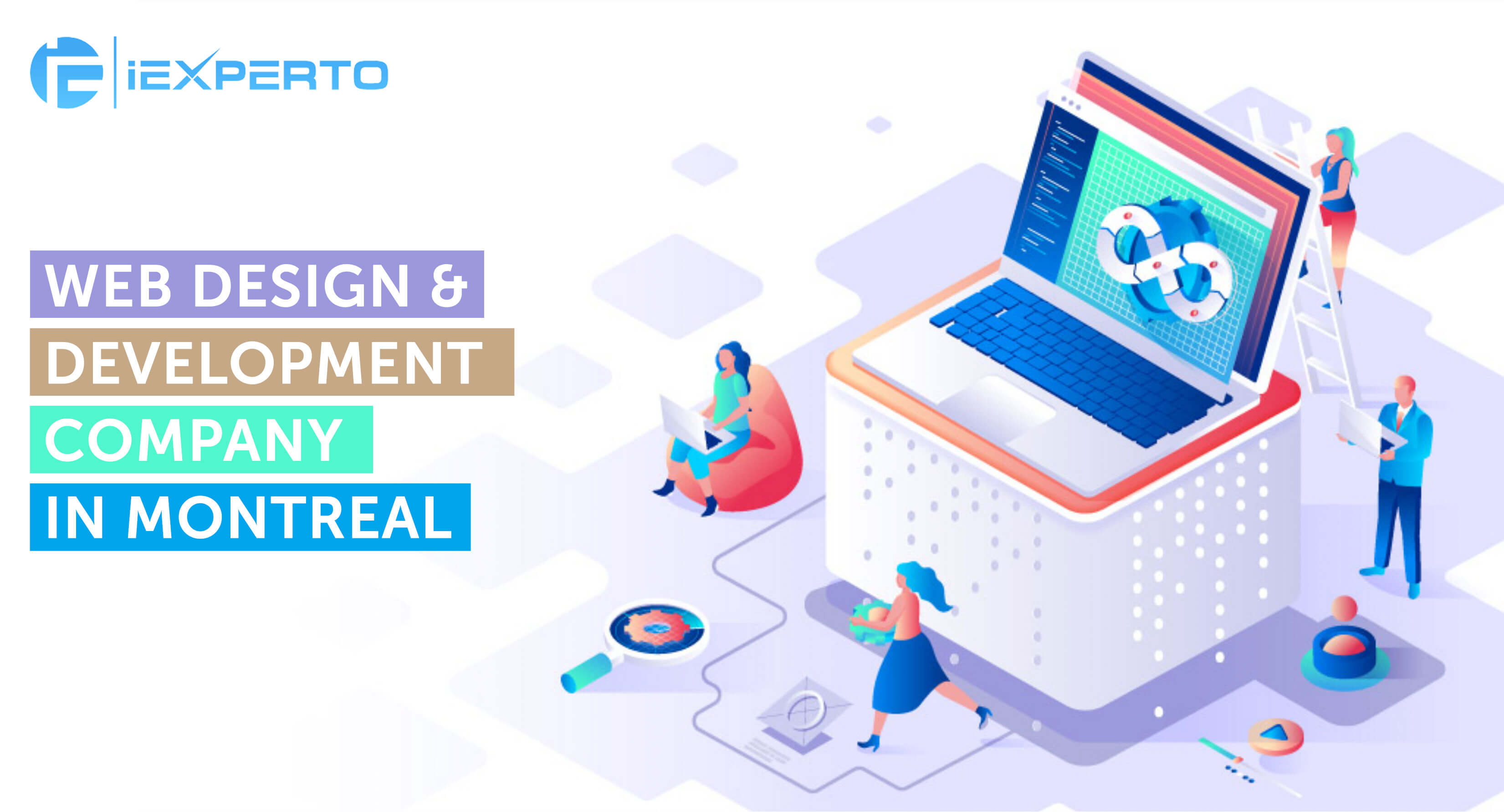 If there's one harsh reality Montreal businesses had to face with the onslaught of the pandemic, it's the importance of having a web presence. Whether you're a retail store that serves local residents or a fast-expanding enterprise that relies on offline one-on-one marketing, you can no longer survive without a website. But not just any website—you need a professional site that can effectively support your business growth.
Now, for many businesses, this is not as simple as it may sound. It involves some important choices that cost money, time, and resources. And blindly making those decisions will not get you that far.
So, in this article, we're going to answer all your questions about building a website in Montreal. We'll discuss how a professionally designed site can help grow your business and the essential things to consider when hiring web designers in Montreal. So, let's get started.
Why does a business need professional web designing?
So, why invest in professional web design for your business growth? After all, if you've been getting decent business with offline marketing, why not just invest more in it? Besides, isn't setting up a Facebook page or running a few Google ads easier? The fact is, the right website can do so much more for your business, no matter what industry you're in.
Here are some compelling reasons to create a performance-driven website for your business in Montreal.
1. Online brand building
Today's consumers spend an insane amount of time on the internet. So, companies must invest in building their brands in the digital space, too, even if they sell nothing online. And a professional website should be an essential component of digital brand-building efforts.
2. Boost competitiveness
A web presence is a must to remain competitive. In fact, a well-designed site that adds value to customers can even give your business a competitive edge over your industry rivals.
3. A cost-effective marketing tool
Building a professional website may demand a sizeable investment. But remember, it's just a one-off cost. In the long term, it's pretty cost-effective to maintain. So, a website will be an excellent addition to your marketing tool kit to make the best out of your marketing dollars.
Did you know that 74% of consumers do online research before purchasing at a retail store? So, needless to say, ranking high on search results is crucial even when your products and services are only available offline. And a website with plenty of search-optimized content is the best way to achieve it.
5. Enhance customer experience
A website can provide a far superior customer experience than a Facebook page or a Twitter profile. This is because it's a more flexible platform when it comes to personalizing the user experience. You can even enrich it with more features, branding, and valuable content.
6. Boost conversions
An effective website doesn't just provide product and business information. You can do much more with it: for instance, you can include customer testimonials, product demos, chatbots, CTAs, landing pages, and content management systems. Ultimately, all these could translate into more leads and higher conversions.
7. Optimize marketing strategy
A professionally designed website can integrate well with both online and offline marketing activities. For instance, it can support brand and product awareness by serving as a central repository of information. Or it could act as a landing page for all your digital advertising and lead-generation efforts.
8. Up-to-date information
Today, consumers want information at their fingertips, quite literally. And anything outdated or inaccurate will put them off. Now, changing one small piece of information on your offline marketing material, whether it's a print advertisement or a billboard, is a costly and time-consuming affair. But unlike them, a website can support quick updates with minimum hassle. So, it's a great tool for up-to-date, around-the-clock customer communication.
Features of a professional website in Montreal
The benefits of having a professional website in Montreal are pretty convincing, right? But there are a few key features that every website needs to perform at its best and support your business.
1. Fast loading time
Research shows that a 3-second lag in loading time can raise the probability of bounce rate by an eye-watering 32%. In other words, a site that works at a snail's pace will not do any good, even if it's packed with engaging content and attractive design elements. This is why you need to make sure your website can load super fast.
2. Responsive design
Here are some more frightening statistics for you to think about: 70% of all web traffic now comes from mobile devices. And these mobile phone users have high expectations. According to studies, 61% of them will never revisit a website if its mobile experience fails them the first time around—all the more reason to ensure your website can adapt to mobile devices with a responsive design.
3. Search-optimized content
A beautifully designed website cannot attract traffic without the right content. Now, we all know content is key to engage visitors and drive sales. But it's equally important to ensure your site gets found on search engines like Google. After all, organic searches are responsible for more than half of web traffic today. So, search-optimized content is critical for a high-performing website.
4. An effective web structure
Each product is different, and so is the audience, not just in terms of their profile but also their expectations, preferences, and online behavior. So, a one-size-fits-all approach to your website is not going to deliver results for your business. Instead, you need to customize the site structure so it can provide a more efficient user experience and serve your business needs.
The benefits of working with a web design company in Montreal
Now that you understand why it's important to have professionally designed websites for your business, let's see how best to get them built in Montreal.
To design a high-performing site, you need to hire experts who understand the ins and outs of professional website development. An experienced web company can add tremendous value to your site and business.
How web design company in Montreal helps grow your business.
1. Better customization.
Professional web designers will customize your site to serve your exact business needs. It's just not the same as getting a simple WordPress site with a few pages built in-house. The more customization you can achieve, the better the results your site can deliver.
2. Scalable designs.
A scalable site can expand and adapt to changes in your organization far more effectively. It's also much less expensive to modify as your business grows.
3. Responsive designs.
A responsive site will adapt seamlessly to different devices. This ensures a better user experience, whether your customers access your website on a desktop or smartphone.
An experienced web design company will advise you on the optimal solutions for your requirements. They'll also apply the latest technologies to bring in better efficiencies. All these can eliminate unnecessary costs and help you make the best out of your budget.
5. No costly delays.
Web design experts will have plenty of experience that enables them to set realistic deadlines and manage your project more efficiently. There will also be minimal mistakes and revisions. So, you can rest assured that your project will get delivered on time as promised.
6. Search optimization to outrank the competition.
Professional web designers understand the importance of search engine optimization for a high-performing website. So, they'll make sure your site can deliver just that.
7. An efficient and engaging user experience
It goes without saying that your site design should impress your customers. But the layout and functionality are also critical to keep them engaged and guide them towards some kind of action, like asking for more information or placing an order.
Learn how to build a website with a web design company in Montreal
Now, a professional web design company will guide you through the entire site development process. But it's still important for you to get a brief understanding of what it might involve. Here's an overview.
5 steps to build efficacious website designing with leading web design companies in Montreal
1. Set site objectives and goals.
You should never embark on a website project without clearly defining what you intend to achieve with it. For example, should your website generate inquiries, drive online purchases, or serve as an information source?
The objectives you set will affect many other critical areas, such as site features, website complexity, budgets, and delivery timelines. So, once you define site objectives and goals, ensure you discuss them at length with the web developers you select.
2. Determine site features.
Next, select the site features based on your unique business requirements and audience profile. For example, do you need chatbots to engage visitors? Are eCommerce tools like pricing plans and shopping carts essential to drive online purchases?
Remember, site features should specifically address your customer and business needs. Just think about it this way: what an educational institute requires will be vastly different from the needs of a fashion retailer. Similarly, the functionality that could engage a teenage audience would differ from what appeals to middle-aged professionals.
The right features can significantly boost your site's effectiveness, while the wrong ones could drive away customers, slow down site performance, and increase costs. So, spend enough time selecting them carefully.
Now, the web design company will guide you with this. But an online search of the latest website trends could also help identify the must-have and good-to-have functionality for your site.
3. Select a web platform and design theme.
There are various website builders like WordPress and Wix that could significantly ease your project workload and bring down costs. A professional web design company will help you select a web platform that'll work best for your needs.
The design themes and templates are another important consideration at this stage. Of course, an attractive design is crucial for any website. But remember, it should also align without your branding and appeal to your customers.
4. Develop content
Website content is a critical area that demands attention. But just any plain old copy will not work here. Your web content should convey your brand philosophy and provide all the key information your site visitors would expect. It must also appeal to your audience and add value to them. Most importantly, it should be optimized to help your website rank high on relevant search results.
 5. Go live, monitor, and improve.
Once the site is in order and testing is complete, the web company will proceed to publish it online. Then it'll need some monitoring over time to check how well it performs and to smoothen out any unexpected glitches. Of course, with professional web designers, these will be minimum. But continuously tracking and improving your site is crucial to ensure it performs at its best.
Things to consider when choosing a web design company
So, what should you look for in a Montreal website design company? Here are some essential tips to help you select the best web company for your project.
How to hire a web design services provider in Montreal: Things to consider
1. Project requirements
Your business requirements and expectations will affect several aspects during the selection process. For example, it'll help determine the type of expertise you need (more on that later), the budgets you can accommodate, and the delivery timelines the web company should meet.
2. Work portfolio
The work portfolio is one of the most important things to consider when hiring a web designer in Montreal. Remember that these companies will always showcase their best work. So, it'll be a good indication of their design and development capabilities. But ensure that they capture the most recent work. After all, you don't want to hire a company based on work done by employees who are no longer with them.
3. Pricing
Different web design companies have different pricing plans. So, it's important to select one that you can afford.
But, how much do Montreal web design companies charge? This is a difficult question to answer outright. Of course, the complexity of your project has a big say in this. But whatever your budget, you can always find a web design agency that's willing to accommodate your needs. Having said that, you should manage your expectations within reasonable limits, too. We all know that the cheapest isn't always the best when it comes to quality. So, shop around to understand the average market prices and select a company that offers reasonable rates.
4. Experience and expertise
Speak to the web company's key personnel to understand their work background and experience in the area of expertise relevant to your project. For instance, if you need an eCommerce site, ensure they have plenty of experience building online stores for others.
5. Client references
Another factor to check is client testimonials. It's particularly important when working with a company that has been in operation for just a few years. It'll help you understand whether they are truly capable of delivering what they promise.
6. Client base
A web design company's client portfolio will also provide some valuable insights. For example, check whether they have worked with any reputable businesses. Perhaps most of their clients are from a specific sector. This could indicate a higher level of expertise in handling industry-specific websites. On the other hand, having an eclectic portfolio of clients could mean that they have a broader set of experience.
7. Company culture
It's important to ensure that the web agency you select can align well with how your company works. A clash in company cultures is a sure way to stir up trouble halfway into the project.
Types of web design company in Montreal
Web design companies typically specialize in one or more areas. So, when choosing a web expert, make sure you select one that's right for your needs.
Here are some of the common classifications:
1. WordPress web design services in Montreal
Nearly 40% of all websites today use WordPress. So, these web design companies are in high demand. Having said that, there are many web agencies now with WordPress design capabilities to cater to the growing market demand.
2. Affordable web design services in Montreal
Each business has its own limitations when it comes to what it can afford to spend. So, the pricing levels of web design agencies are a natural criterion for classifying them. But if you're thinking of choosing an affordable agency with pricing at the lower end of the market, ensure you check their design expertise and client references before making a decision.
Needless to say, professional design service companies will offer a higher quality output. But their prices will also be higher than what's offered by agencies with little experience.
4. Business web design services in Montreal
A business website will have different requirements compared to, for example, an educational institute or a news media. So, these web agencies might be just what you need if you're looking for a website to promote your company and brands.
5. Responsive web design services in Montreal
With rapidly increasing mobile internet use, a responsive design is a must for any website today. And there are plenty of web design companies that can set up a mobile-friendly site for you.
6. Custom web design services in Montreal
Larger businesses and those with complex web requirements typically opt for custom-made websites that cater to their specific needs. But, of course, this is a more costly option that demands a high level of expertise.
7. eCommerce web design services in Montreal
These web companies specialize in setting up eCommerce sites with all the essential features to drive online sales.
8. Creative web design services in Montreal
A unique and creative design can help you stand out from the crowd. It's even more important if you're in a creative field, like advertising or product design. So, you need a creative web agency that can impress audiences with a one-of-a-kind design.
To wrap up
A professionally designed website can add tremendous value to your business—from strengthening your online brand presence and enhancing your customer experience to giving a competitive boost to your business. Today, consumers of all ages are spending more and more time online. So, a website has become an essential marketing tool for businesses, regardless of their industry.
Of course, your site should have all the right features to ensure it's geared to deliver results. Functionality like responsive designs, super-fast load times, search-optimized content, and effective site structures are essential elements for a high-performing site.
But to make all these happen, you need a professional web design partner. An experienced agency can tailor-make your site and ensure it's scalable, responsive, efficient, on-budget, and fully equipped to wow your customers.
And finally, here's a quick summary of web development services in Montreal: The classification of web agencies is mostly based on their design expertise. And these can range from business designs and eCommerce sites to WordPress and custom websites.
How to find a web design consultant firm in Montreal?
Well, look no further. iExperto is a full-service web design agency with years of proven expertise in designing and developing high-performing websites for businesses in Montreal.
How to explore our web design company in Montreal?
Get in touch, and we'll share our expertise and service portfolio. And we'll show you how we can help build a high-calibre site that delivers results for your business.
Maximize your revenue by a web design company in Montreal.
Call iExperto today!